Coastal Haiti Mission
December 2022 / January 2023
EXAMINATION
"I'll be home for Christmas – you can count on me…"  Many of us are familiar with this popular song which appears every season of Advent.  It carries a picture of the younger generation living and working far from home, and looking forward to returning to the homestead for the holidays.
The outside of the house will be lit up, no doubt, and candles will beam forth from the windows.  The beloved family dog they left behind will be the first to announce their arrival, and family members will gather at the front door to greet them with warmth and affection and to welcome them home.  And inside?
Well,  it's Christmas!  The smell of ginger bread and pumpkin pie will permeate the air, and the stockings will be hung with care by the fireplace.  A beautiful tree will take center stage, still decorated with the ornaments they made in kindergarten.  Perfect!
But wait!  For one reason or another not every young person wants to go home for Christmas.  Maybe they've taken a different path than that laid out by their parents years ago; a different college, a different occupation, a different political view, a different approach to life.  Maybe they don't want to deal with their parents (real or imagined) disappointment in the choices they have made.  Or maybe there is much conflict and quarreling  among family members, or even hard-core addictions that cause constant upheaval in the home, fostering a toxic environment.
As a Christian, it causes me to examine my own responsibilities and contributions to the welfare of the folks I do life with.
Do I consider the needs of others as well as my own?
Do I make it my business to care about the well-being of my family members and friends, including my brothers and sisters in Christ, with whom I interact from day to day?
Do I dampen the atmosphere with whining and complaining?
Do I always treat others with kindness and respect?
When offended do I forgive, or do I run and hide?
Do I offer encouragement and genuine compliments, given to strengthen  confidence?
Do I seek to "build up," and loathe to "tear down?"
Am I transparent and open to others while wanting others to be transparent and open with me?
Do I offer my time and a shoulder to cry on when needed?
When criticized, do I lash out in anger and strike back, refusing to consider their accusation?  Or am I willing to consider the fact that they may be correct in their evaluation?  Do I appreciate the fact that they care enough to confront me?""
And, finally, do I show the love of Jesus shed abroad in my heart by the Holy Spirit?  (Rom.5:5 TAB)
(My score on my self-examination? Hmm, let's see – God knows!)
"And let us consider and give attentive, continuous
                 care to watching over one another, studying how
                 we may stir up (stimulate and incite) to love and
                 helpful deeds and noble activities…"
                                                                         Heb. 10:24 TAB
Walking this way with you,
Connie
In Remembrance
Glen Watrous, age 90, of Savannah, Georgia, went to his heavenly reward on Christmas Day 2022. Glen and his wife Ruth, have been supporters of the missions work in the Village of Cahess for many years. Glen and Ruth paid for the building of 3 churches, including the church that Pastor Coty Joseph is now serving in.
Glen and Ruth operated a construction business, building many custom homes.  Glen took great pride and pleasure in working hard to build these homes. He was the most extraordinary husband and father. He went to be with the Lord with all his heart.
We at Coastal Haiti Mission are very grateful to Glen and Ruth for their support of this ministry to the people of Cahess Haiti. Glen and Ruth supported this ministry in life, and now, they are honoring this ministry again by requesting that donations made in Glen's memory, be sent to Coastal Haiti Mission, which will be used to benefit the people of Cahess Haiti.
On behalf of the Board of Coastal Haiti Mission, I express our sympathy to Ruth and her daughters Denise and Brenda and their Families.
Ken Johansson, Administrator of Coastal Haiti Mission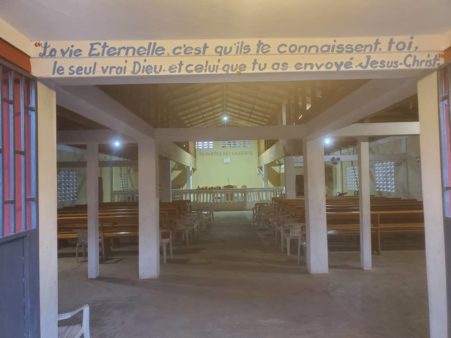 The photos above show the beautiful church that Glen and Ruth paid for.
We also want to thank Michael Worthing and his brothers Steve and Ed, along with a man from Florida named Dave, for designing and building this beautiful structure.
Michael and his wife Nancy now lead a very wonderful ministry to the Haitian people, named Deep River Mission, which is located near the Cap-Haitien Airport.
The Home Lighting Program
To date the Home Lighting Program has been very successful. During the recent fuel shortage, the homes that had light at night were the homes that had the Cyclops lights that were provided by you, the Family and Friends of CHM.
Recently, a church in Lynn Massachusetts, named East Coast International Church, conducted a Christmas project to supply Cyclops lights and Solar Power Banks. At the conclusion of this project, 50 lights and 50 solar chargers were donated to the Home Lighting Project.
We are very grateful to my son, Daniel Johansson and to Pastor Kurt Lang who spearheaded this project, and to this congregation who rose to the challenge of providing light to families in the Village of Cahess Haiti.
We also want to say thank you to all of you, who answered our request in the November 2022 CHM Newsletter, to make a Christmas gift of a light and/or solar charger to a Haitian family.
We will report on the status of shipping these lights and solar chargers in up-coming CHM Newsletters.
Ken Johansson, Project leader  
Christmas Party
The Christmas party took place on January 1, 2023.
Pastor Coty Writes:
This year again, we had a good celebration with the children. Good drinks and toys, as well as a good time together. It was all about having a great day for the children of Cahess, but everyone was a beneficiary.  
During this celebration we had food for everyone. The children and their parents were served a complete plate of food, along with something to drink.
The parents were very happy and thankful to see their children receiving gifts and plentiful food. These were benefits that the parents themselves, were unable to provide for their children. 
When I say thank you to you, the supporters of Coastal Haiti Mission, it is the voice of every parent in Cahess, sending their thanks to you.
 Pastor Coty Joseph
A day to enjoy in difficult times.
The School Lunch Program
Pastor Coty notified me that now there are no demonstrations, and that school is back in session.
The following photos are about the students favorite subject, LUNCH.
This was lunch when the schools were shut down.
Pastor Coty Writes:
Now school is functioning for which we thank God. The students are not wearing uniforms yet, but we always provide them with lunch on school days.
Proverbs 19: 17
Whoever is kind to the poor lends to the Lord, and he will reward them for what they have done.      
 A prayer for you from the scripture:
Psalms 67: 1
May God be gracious to you and bless you
and make His face to shine upon you.
Thank you, Family and Friends of Coastal Haiti Mission, for all that you do to help the people in Cahess, Haiti. You are making a huge difference for these people.
Please remember, that CHM must continue to send our monthly commitment of $800 to carry on the ongoing CHM ministry in Cahess.
If you desire to help, please send your tax-deductible check to our address and tell us how you want us to use your donation:
Coastal Haiti Mission
C/O Constance Goddard
3048 Spring Fancy Lane
Indian Trail, NC 28079
Or For tax deductible "online donations", please use our PayPal service. Also please designate how you want us to use your donation.
May the Lord our God, who knows your heart and sees your actions, grant you great joy as you serve Him.  Connie, Esther, Pastor Coty, Carl, Dan, and Ken are very grateful for your sacrifice. Ken Johansson CHM Newsletter Editor