Coastal Haiti Mission Newsletter
MAY 2018
Saturday Sunday School
Pastor Coty Writes:
The kids were enjoying watching the Jesus film.
In that film, it is the children who are telling the story about Jesus. It was so much fun, and our children kept their eyes on the screen. I can say that our kids in Cahess are receiving a good education. Day by day, they are coming nearer to Jesus, as most of them have already accepted Jesus as their Savior.
They were so quiet, as they listened to children just like them, tell the story about Jesus, from his birth to his resurrection as they watched Jesus in action.
Eternal investment in these children's lives.
Water Purifier Project
Meet the CHM Water Purifier Technician.
His name is Jean Ely Tousaint, but he is known by his nickname, Jeff.
Jeff is in his second year of Agronomy School. He will work part time to install and service the water purifiers in the Village of Cahess and its surrounding area.
Jeff will be attending the Gift of Water Training Seminar from June 25 to June 29.
When Jeff returns from the Training Seminar, we will begin the installation of water purifiers in the homes in the Cahess Area.
In the meantime, the students in the school and the church congregation, continue to be introduced to the Gift of Water Purifier. Pastor Coty and Jeff have been accumulating a list of people that desire to have a water purifier installed in their homes.
Pastor Coty Writes:
The list of people interested in the Gift of Water project, is increasing day after day. Many families in Cahess would like to have a system in their home. This will help them by not having to purchase water, when they don't even have enough money to buy food to eat.
I want to see this project in action. Many other people desire this project as well.
 Jeff in Action
School Lunch Program
Dear CHM Family and Friends, by your sacrificial investment, there was school lunch for the students and their teachers for the month of May and also for the eleven school days in June, that remain in the school semester.
We will continue to receive School Lunch donations during the Summer months, for the Fall semester.
Pastor Coty writes:
This is the break time. The teachers are sitting under the mango tree, the kids are all near by their classrooms, and the cooks are separating the food. Everyone is expecting their plate for today.
 Lunch Break
The students, the teachers, Pastor Coty, and the Board of CHM, are profoundly grateful to you. We say thank you, thank you, thank you.
The Student Body
These are the children you are investing in.
Honoring The Teachers
Pastor Coty Writes:
May the 17th is the teacher's day in Haiti. This year we were celebrating that day with the teachers and the school kids in Cahess. All the parents were invited to come. They were happy to see their kids in actions. We were able also to feed almost every one who was there.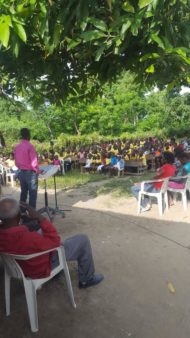 Pastor Coty Writes :
In that special day, the school staff was thinking to honor a very old teacher in Cahess. This year, that award went to Jean Baptiste Joseph, also known as Amo, for his services to the Cahess people for many, many years.
Editor's note:  Amo, also known as Amodice is Pastor Coty's Father. Amo is loved by all of us who know him.
 Amo holding his certificate with Pastor Coty at the podium.
A Special Need
Pastor Coty Writes:
This is Steven Saintil. He is in the fourth grade. He has one knee bigger than the other one. Most of the time, to come to school, he uses a stick to walk. He always complains  of pain. His parents don't have the financial resources to take him to a big hospital. He has a little  brother who has the same kind of sickness. Some days, the leg is almost normal, but most of the time he suffers from bad pain and the leg is badly swollen.
In this picture, Steven uses his stick to stand for the group picture.
Editor's note: We at CHM found out about Steven's knee problem several days ago. If anyone desires to help Steven's parents to get a diagnoses of Steven's knee problem, please send your donation to the address at the end of this newsletter and mark it, Steven's knee.
If  you help the poor, you are lending to the Lord and he will repay you.
Proverbs 19: 17
Please remember, that CHM must continue to send our monthly commitment of $600 to carry on the ongoing CHM ministry in Cahess.
If you desire to help, please send your tax deductable check to our address and tell us how you want us to use your donation:
Coastal Haiti Mission
C/O Constance Goddard
3048 Spring Fancy Lane
Indian Trail, NC 28079
Or
For tax deductable "online donations", please use our PayPal service. Also please designate how you want us to use your donation:
May the Lord our God, who knows your heart and sees your actions, grant you great joy as you serve Him.               
Connie, Esther, Pastor Coty and Ken are very grateful for your sacrifice.
Ken Johansson CHM Newsletter Editor