Coastal Haiti Mission Newsletter
December 2020
Website revision and Review
This month we highlight CHM's representative in Haiti, Pastor Coty Joseph
Lyvinx Joseph is my name, but most people call me by my nickname,  Coty.  I was born and raised in Cahess, a village near the Town of Trou-du-Nord, in the northern part of Haiti.
I grew up in a Christian Family. My father was and still is a hard worker. Now, because he is in his 80s, he is beginning to show his age. When Pastor Clint and others started North Haiti Mission in 1993, my father had the total responsibility of the property, when the missionaries were not there (which was most of the year). He made us (me and my brothers) work in the mission; ie hauling sand from the river, building fences, and cleaning the property when the missionaries were coming.
So, I grew up being part of a mission and having missionaries come often to my village.
In 2009, Coastal Haiti Mission was formed, and I was chosen to be the representative in Haiti. I was honored then, and I am still honored now, to hold this office.
I got married in 2011 to Rosena (Nana) S. Joseph. We have not had any children yet.
I graduated with a degree in Theology in 2013. I have also studied Philosophy, Politics and Law.  Now, I am working toward a Master of Theology degree at Emmaus University in Haiti.
I have a heart to help, and  my calling is to serve.

In 2009  I started a Church in Cahess. In 2010  I asked Pastor Clint to name the church. He named it: "Source of New Life Baptist Church of Cahess".
In 2012 I started a grade school in Cahess with 40 children. These children could not afford to attend other schools. Now we have 225 children.  It is my joy to see all these children get an education and a meal each day.
Life is tough in Haiti. Our people need a person who is living this kind of life in Haiti, to explain what our life is like, to people in other countries, so that they know how to help us. I am this person.
Several years ago, I started a store in another village near Cahess. I also am growing a garden, so I can personally be involved in providing food.
My wife and I have visited the United States, but we never stay longer than 20 days because we are needed in the village. We always think of the needy people in Haiti.
A Message from Connie Goddard
BEING AWARE
The moment they saw the star they knew that something was going down. Something big.  They knew not what it was, but they would certainly find out.  They HAD to find out!  After all, wasn't it their work and passion to observe and study the happenings in the eastern sky?  Perhaps a king had been born.  They must leave at once — whatever the cost. 
Well, we know the story.  They eventually arrived at the residence of a baby boy and showered him with gifts of gold, frankincense, and myrrh.
A king, indeed had been born.
And He wasn't just any ole' king, He was THE king — King of Kings and Lord of Lords!  The Eternal God, the Father's Son, born to die to live again — forever. 
And, wonder of wonders, He wants us with Him!  Forgiven and cleansed by the blood of the Lamb.  Forever alive like Him. 
Well, we are still residents of Planet Earth.  Still time to serve King Jesus.  Another Christmas has come and gone.  A brand new year is ahead.  Like the wise men- of- old, let us be aware of our surroundings.
   Is anyone hungry?  Give him some food.
   Is anyone thirsty?  Give him something to drink.
   Naked?  Give him clothes.
   A stranger?  Invite him into your world.
   Is someone ill?  Visit him with help and ministering care.
   Imprisoned?  Drop in to say " Hello."
   "And the KING will reply to them, 'Truly I tell you, in as far as you did
   it to one of the least [in the estimation of men] of these my brethren,
   YOU DID IT TO ME.'"

Walking this Way with you,
Connie
The 2020 Children's Christmas Party
Pastor Coty Writes
The children's Christmas Party was a tremendous celebration.
We want to thank each and everyone who contributed to making this event a reality this year. 2020 was not an easy year for anyone.  The economy is down, and people have less resources than what they used to have.  
But some people did their best to remember the children of the village of Cahess and sent their money, so these children would have a good time.
We did spend the money wisely and everyone was happy.
After the party, some of the children took food back home for their parents.
They also had the opportunity to drink a soda by themselves. This is unusual, because normally one soda is shared with several children. A parent won't buy a soda just for one child. At this party, each of the children received their own soda. 
They had a great time together, going back home with toys, gifts and food.
 You provided a super time for these children.
On behalf of the children, and their parents, of the Village of Cahess, I say a big thank you.
Be blessed in Jesus' name.
Pastor Coty Joseph 
 Waiting to begin
A gift for each child
The children enjoying this special meal
 Bringing the food home to the parents.
School Lunch Program
Pastor Coty Writes
Even though 2020 was hard on us, the eyes of God were, and still are, on his children.
The school kids of Cahess had the great opportunity to have a meal at each school day. That is the grace of God working through you, our  supporters.
Coty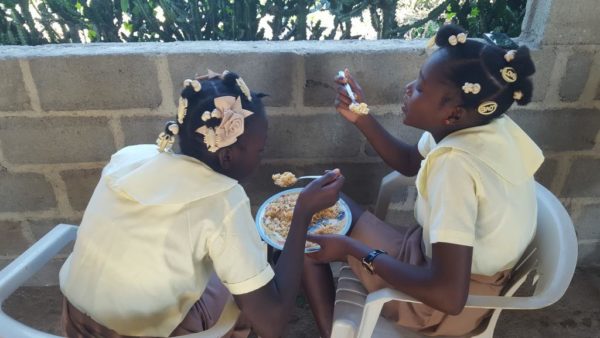 The school children being blessed by the School Lunch Program.
Food for the Needy Program
The people in the Food for the Needy Program received their usual allotment of food.
Two very generous people from Cahess, provided a Christmas blessing of rice and oil for the people in this program and also for the
families in the church.
Pastor Coty Writes
We put some rice along with a bottle of oil in the green bags to give to the  people.
We were glad to celebrate with everyone.
This time, not only the people on the list, but the families in the Church, were also blessed to have a bag to take back home.
 The gifts of rice and oil ready to be given out to the people.
Proverbs 11: 25
The generous will prosper; those who refresh others, will themselves be refreshed.
A promise to you from the scripture
Don't be afraid, for I am with you.
Don't be discouraged, for I am your God.
I will strengthen you and help you.
I will hold you up with my victorious right hand.
Isaiah 41: 10
Thank you Family and Friends of Coastal Haiti Mission, for all that you do to help the people in Cahess, Haiti. You are making a huge difference for these people.
Please remember, that CHM must continue to send our monthly commitment of $800 to carry on the ongoing CHM ministry in Cahess.
If you desire to help, please send your tax deductible check to our address and tell us how you want us to use your donation:
Coastal Haiti Mission
C/O Constance Goddard
3048 Spring Fancy Lane
Indian Trail, NC 28079
Or
For tax deductible "online donations", please use our PayPal service. Also please designate how you want us to use your donation:
May the Lord our God, who knows your heart and sees your actions, grant you great joy as you serve Him.

Connie, Esther, Pastor Coty, Carl, and Ken are very grateful for your sacrifice.
Ken Johansson CHM Newsletter Editor