Coastal Haiti Mission Newsletter
November 2019
A Lofty but Very Real Goal
Pastor Coty Shares His Dream
We want the children to come to us, because our ministry goal is to help them in every way possible.
Our desire is to build a new generation for our country and our village. For that, we invest ourselves in the children. We teach them the word of God, as well as good morals, good behavior, good hygiene and other vital subjects. The kids always enjoy coming to class, because we always provide something for them to eat.
All of the children in Cahess are expecting the Christmas party. During this party, kids from the area, come and enjoy a great time. Not only do we feed them well, but each and every one of them will receive a gift.
Many Thanks to you, our supporters. May God bless you all, for being our partners, and for your sacrifice.
Pastor Coty Joseph
The Upcoming Christmas Party
In previous years the Christmas Party has been the highlight at the end of each year. It is a time when the children get all they can eat, and they also get a gift.
Life in Haiti this year has been particularly difficult. The civil unrest, the riots and blocked roads have caused much financial hardship for the people, including the families with children.
A particularly difficult problem is the horrendous inflation. The people are hurting and the children are directly affected.
But you, the family and friends of Coastal Haiti Mission, have more than come through, in meeting our request for funds for the annual Christmas party. We asked for $750 for the party and we are able to send $1000.
Furthermore, you have enabled us to send a small financial gift to the full time teachers and support staff of the school of Cahess. You have also enabled us to send a small gift to all the volunteers, who are teaching the new 7th grade.

Finally, you have enabled us to financially bless Pastor Coty and his wife Nana. They are the CHM "boots on the ground" representatives of CHM and they are key to all of what CHM does in Haiti.
We, the leaders of CHM thank you from the bottom of our hearts.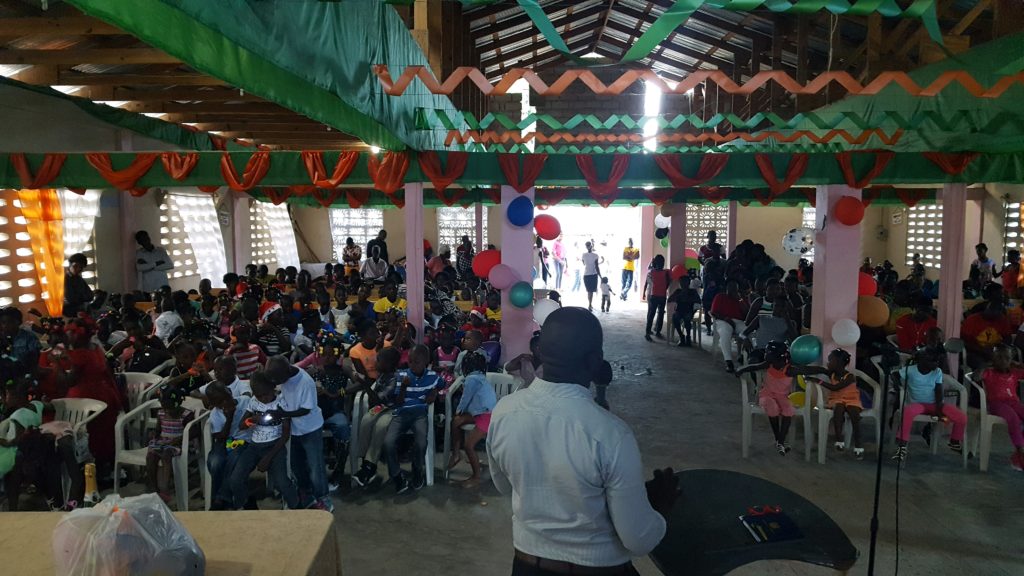 Scenes from the Christmas Party last year.
We will report on this year's Christmas Party in the December 2019 CHM Newsletter.
Woudenie Jean
In the years that I have been the editor of the CHM Newsletter, I have not deliberately repeated a story. However, Woudenie's story bears repeating, but with additional detail.
Ken Johansson, CHM Newsletter editor
This is also Pastor Coty and his wife Nana's story, which he writes:
I will never forget the day that I met her in the school yard. She came to eat because she was hungry. The cooks were very kind to her and they fed her.
I went to talk to her, asking about her mother and father, and why she does not come to school. Her answer was that she has no one to send her to school. She said her Mother and Father went to PORT-AU-PRINCE and they never came back. She told me that she was living with her grandmother who is not able to help her much. I know the circumstances of the grandmother, and it is true, that she is not able to help her.
I asked her if she likes school, she said yes and then she disappeared. I did not know where she went. The next day she came again, and I saw her by the kitchen, where she was again eating. After eating, she disappeared again. I was surprised to find her where she was sitting. It was by the first grade class, where she was sitting and listening to the teacher inside. Then I realized where she was the previous day, when I thought that she had disappeared. She had been sitting at the classroom door.
I explained Woudenie's situation to my wife, Nana. Nana was moved to action by Woudenie's need. The next week, Nana provided Woudenie with a uniform so that she now comes to school, like the other children.
Woudenie Jean is an example of 200 children in Cahess, who may not go to school, if it were for not the existence of our school in the village.
Thank you and may God bless all of the supporters of Coastal Haiti Mission.
Best regards,
Pastor Coty
Woudenie Jean, listening at classroom.
Woudenie Jean is now a school girl.
Two happy people
The School Lunch Program
You have provided lunch for all of the school days in November.
Pastor Coty Writes:
I will always post these pictures and I can post a new one every school day. This is because we are able to feed our kids every school day. All of this is because of the efforts of many of God's people, who care so much for others.
I don't know of a better way to have all of the students come to class. I want to be clear here. It is because of the food program in the school that keeps them from missing class, unless they are really sick.
For many kids in the village, they eat once a day and they get that meal at the school. So, I cannot think of a school day with no food.
With best regards,
Pastor Coty, on the ground in Cahess Haiti
A huge blessing in difficult times.
Food for the Needy Program
Pastor Coty Writes
The number of people in this program is increasing day by day, as the poverty in Haiti deepens. The people are grateful, which you can see by just looking at their faces, after they receive their allotment of food. They count on this food because they do not have money to purchase food in the market place.
In a time where the economic system is down in a poor country like Haiti, we always use the terminology, "life is expensive," however now, it is worse than ever before.
People who are working, are complaining every day about how difficult things are for them. The poor people in the village of Cahess have had to wait on other people for help. The Lord hears their cries, and blesses them each month with food to eat, through you, His ministering servants.
Some of these people have not confessed the Lord Jesus as Savior yet, but they have started coming to church. I imagine that they come to thank the Lord, because He has blessed them with food each month.
Thank you to you, who are God's hands to the people of Cahess.
Pastor Coty on the ground in Cahess Haiti.
Helping to meet the hunger problem in Cahess.
Church Street Ministry
Early in the morning on Saturday November the 16th, members of Cahess Church were already on the street. They were there to clean the street of Cahess.
People from the church of Cahess are beginning to think in a good way now. They are learning to participate in various social developments. An example of this kind of thinking is, that they have determined to keep the street clean in front of their church.
As the church is getting ready to celebrate its 10th anniversary, the church members along with their Pastor, are desiring to give another emphasis of their beliefs to the people in Cahess and the surrounding region.
We believe in God the Father, God the Son, Jesus Christ, and God the Holy Spirit.
We believe that a personal relationship with Jesus Christ is the only way to get to heaven.
Presenting the church to the community in the best condition possible.
Coming in the December 2019 CHM Newsletter
We will tell the amazing story how two small boys in a little community in Northern Haiti, are a key part in beginning hemophilia treatment for the whole country of Haiti.
Hebrews 6: 10
God is not unjust; he will not forget your work and the love you have shown him as you have helped his people and continue to help them.
Thank you family and friends of Coastal Haiti Mission, for all that you do to help the people in Cahess, Haiti. You are making a huge difference for these people.
Please remember, that CHM must continue to send our monthly commitment of $600 to carry on the ongoing CHM ministry in Cahess.
If you desire to help, please send your tax deductable check to our address and tell us how you want us to use your donation:
Coastal Haiti Mission
C/O Constance Goddard
3048 Spring Fancy Lane
Indian Trail, NC 28079
Or
For tax deductable "online donations", please use our PayPal service. Also please designate how you want us to use your donation:
May the Lord our God, who knows your heart and sees your actions, grant you great joy as you serve Him.
Connie, Esther, Pastor Coty and Ken are very grateful for your sacrifice.
Ken Johansson CHM Newsletter Editor