Coastal Haiti Mission Newsletter
October 2019
The Tender Heart Throb of Pastor Coty
I cannot think of a better way of starting the October 2019 CHM Newsletter, than to share this account of a tender hearted pastor. These are very troubled times in the Country of Haiti, where there is not enough of the necessities of life, to go around. This is the real life story of Woodnie, who does not have parents, to see to it that she attends school. I hope that this story grabs your heart just as it does mine.
Pastor Coty writes:
Many parents in Haiti do the best they can for their children. Besides providing food when they able, they also greatly desire to send their children to school. Many children do not have someone to care for them in this way, so some of them stay in the streets. In many cases these are the children who grow up to become a danger to society.
This sweet little girl does not have a parent to send her to school, so she comes by herself. She does not actually go to class, because she does not have a uniform which is required to enroll in the school. However, she comes at 10.00, when she knows the food will be ready. I talk to her and she tells me that she likes the school and she wants to attend like the other kids. Her name is Woodnie Jean.
After talking to Woodnie, she left and I thought that she went home. I did cry when I found her sitting on a cement block by the first grade class, listening to the teacher inside.
I went home and talked to my wife Nana, about Woodnie. Nana was moved in her heart to provide everything that Woodnie needs to be enrolled in school.
So please, pray for Woodnie, because she can be an inspiration to other kids.
Woodnie Jean eating lunch.
Woodnie Jean wishing she could attend class
Pastor Coty with Woodnie. Woodnie is now enrolled in the school.
       Thank you Nana and Pastor Coty for your tender hearted help to Woodnie.
The School Lunch Program
Pastor Coty Writes:
Serving the food to the kids is sometimes a big challenge, as everyone is hungry. They are always in a hurry to receive their plate of food.
But it's the easiest part of the program, when I consider the efforts made by others, to collect money for this program.
Teachers like Yamoutch, as well as my wife Nana when she is not working, always want to help serve the food. For some reason, the students always stay seated, whenever I am doing the serving. They wait until I get to them.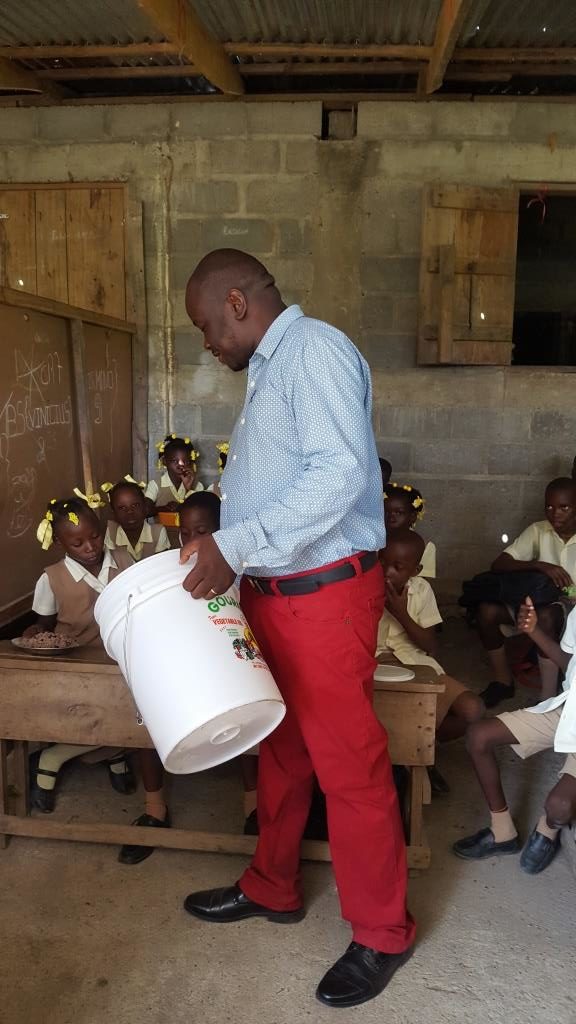 Pastor Coty serving lunch.
Brother Yamoutch serving lunch.
Lunch is served at the School of Cahess
Conditions Now in Haiti
Pastor Coty Writes:
For 2 months now, the country of Haiti has been in a big turbulence. Life is hard.  There is no school in the capital city of Port-au-Prince, nor in the city of Cap-Haitien, which is near Cahess. Transportation is a big challenge. Prices were $13 per gallon, which was triple the normal price for gasoline. Some places it was as high as $20 dollars per gallon. Now the price is in the normal range in Port-au-Prince but still high in Cap-Haitien. Now it is $8 to $9 a gallon in Cap-Haitien. We have been able to have school in Cahess. I had a chance to buy food from Cap-Haitien.  The photo below shows the way our food storage looks right after I purchased the food. It won't look like this for long, with so many mouths to feed.
Stored food that will be eaten very soon
The school kitchen in Cahess
This is how we start a school day.
Food for the Needy Program
Pastor Coty Writes
More than ever before, the people in Haiti need help. The misery is visible in Haiti during these days. Our people in Cahess are suffering from the hardest time of their lives. However they are hoping, that some people in a different place, are thinking of them. They are hoping that food will be sent to them, so they can feed their families. If you look at their faces, you can read the misery that they feel. They will get joy in their hearts when they receive something to cook.
Waiting in line to get food to cook.
The old lady cannot carry her food, but the younger lady helps her.
We are sad now as one of the people that we have supported has passed away. Her name was Rose-Marlene Jean Gilles. She died Sunday October the 20th. In the above picture she is standing by the door. This photo was of our last distribution, which was the last time she received food from us.
We are sad, but we rejoice that we did our part, while she was alive. Please pray for her 3 daughters.
The Upcoming Christmas /New Years Celebration
Ken Writes: Dear Coastal Haiti Mission Family and Family. The year 2019 has been the most difficult year for the Haitian People that I have witnessed since becoming involved in Haitian missions work, beginning in 1994 (That is 25 years). I have seen unrest, occupation and embargoes by the US Government, and occupation by the United Nations. Through all of these traumas, I have never seen the Haitian common man, the little people, the poor, have such economic deprivation as in 2019.
We trust that 2020 will be a better year for the Haitian People, especially the poor and disadvantaged people who are now struggling to survive. The truth is that the common people would not survive if it were not for people like you, serving in the many missions like CHM, and family members living in other countries who send money home to the family members in Haiti.
Each year, you have helped CHM provide a Christmas/New Years celebration for the people of Cahess. This celebration helps the people of Cahess push into the background the struggle to survive for one day. Last year, you provided a wonderful celebration which was documented in the January 2019 CHM Newsletter.
Below are a few photos taken from that Newsletter.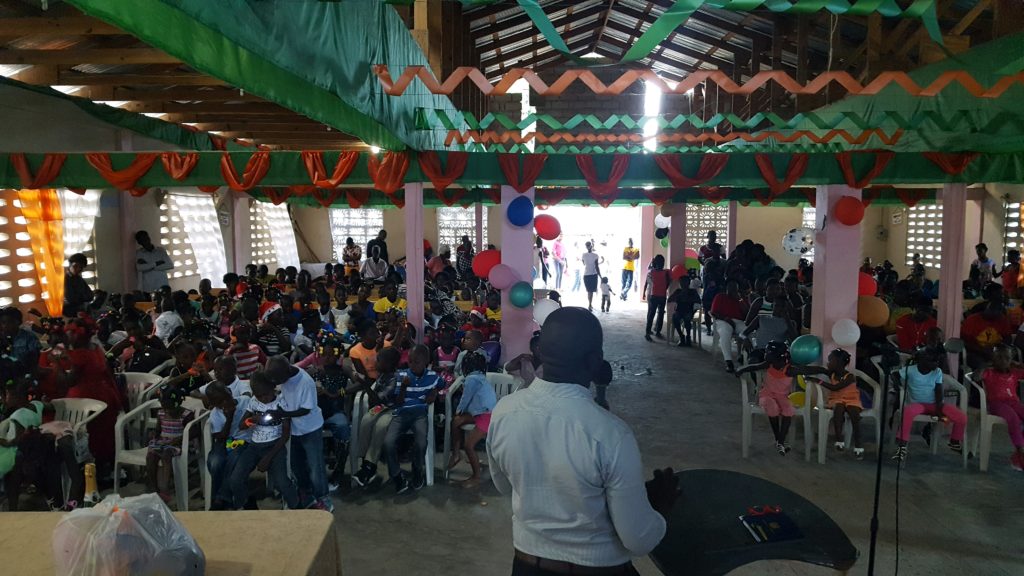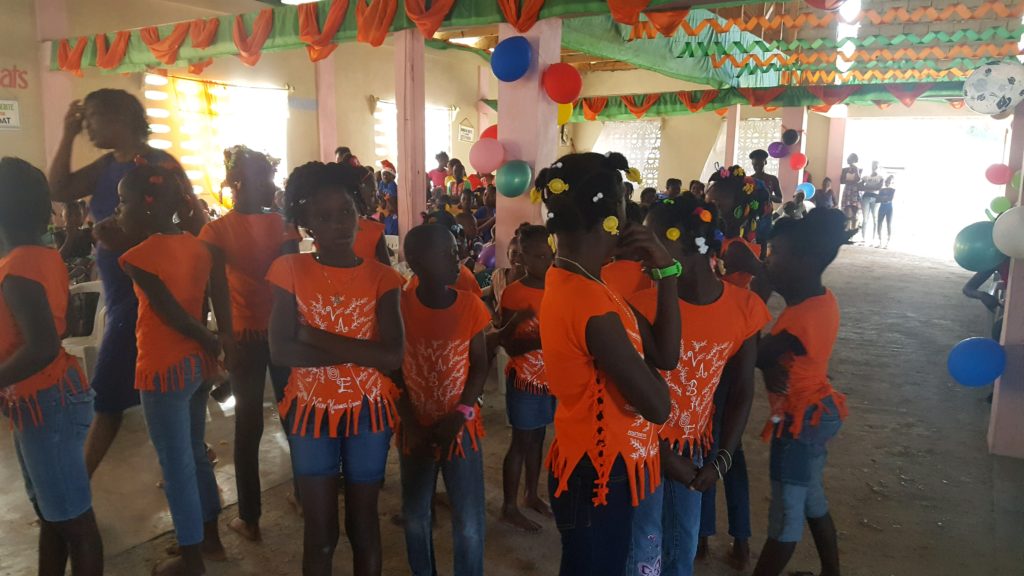 Because of the Inflation that has been so excessive this year, we hope to send $750 to provide the celebration this year. If you would desire to help us provide the 2020 Christmas/New Year celebration, please send your check to the address at the end of this newsletter or use our PayPal account also at the end of this newsletter.
We the leadership of CHM are very grateful for your participation and we thank you from the bottom of our hearts.
************************************
Hebrews 13: 16 And don't forget to do good and to share with those in need. These are the sacrifices that please God.
Thank you family and friends of Coastal Haiti Mission, for all that you do to help the people in Cahess, Haiti. You are making a huge difference for these people.
Please remember, that CHM must continue to send our monthly commitment of $600 to carry on the ongoing CHM ministry in Cahess.
If you desire to help, please send your tax deductable check to our address and tell us how you want us to use your donation:
Coastal Haiti Mission
C/O Constance Goddard
3048 Spring Fancy Lane
Indian Trail, NC 28079
Or
For tax deductable "online donations", please use our PayPal service. Also please designate how you want us to use your donation:
May the Lord our God, who knows your heart and sees your actions, grant you great joy as you serve Him.
Connie, Esther, Pastor Coty and Ken are very grateful for your sacrifice.
Ken Johansson CHM Newsletter Editor