Coastal Haiti Mission Newsletter
July/August 2019
A Summertime Treat
Good experiences help children to thrive. Often, it takes work, sacrifice and money, provided by adults, to create these experiences. Children will often remember these experiences for a lifetime.
It is rewarding to see that Pastor Coty and his wife Nana, are willing to create and participate in activities that the children of the Village of Cahess, will enjoy and remember. The trip described here was for the older children of Cahess. It involved traveling to another location and staying overnight.
Pastor Coty Writes About this Trip
For years our kids have been asking us to go out with them. In the past they have seen the young people go away and stay for days. They were asking us to do the same thing for them. We were able to take them to a town named Ferrier, which is Nana' s home village. Nana is now employed as a nurse in this village.
We rented this School Bus, to take the older kids with us for a sleepover.
A New Experience
We were received by a Pastor in Ferrier, at a nice looking kindergarten school. Our kids were more than happy, as they saw the recreational equipment for the first time. Some of the children have seen this type of play equipment in a movie. All day long, they wanted to keep on playing. None of them became tired.
In this nice place, there are two sets, of play equipment. One at the kindergarten school, and one for the orphanage where Nana is working. The 40 kids that were with us, would play all day long if we let them. It was a good time for them.
We would like to have this equipment in Cahess.
We were able to feed them a nice meal and then we met in the church for a conference. At the end of the day, the girls retired to their room, and the boys went to their room.
A meeting in the church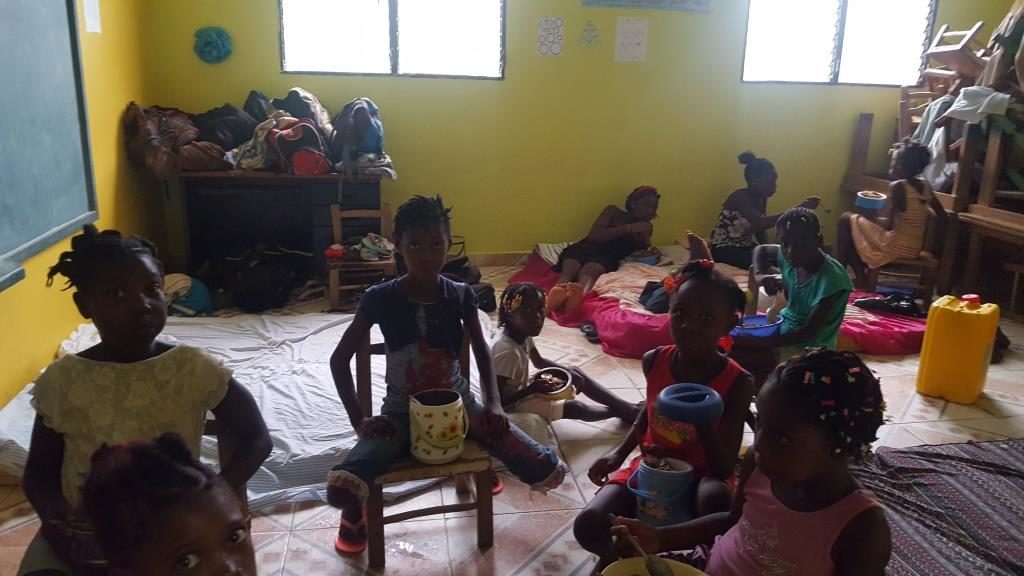 The Girl's in Their Sleeping Quarters
The Boy's in Their Sleeping Quarters
The Next Saturday
These are photos of the children on the next Saturday after the overnight trip. The small children who did not go on the trip where happy to meet again with the others in their class.
All together again
Thank you and may God bless you all for your demonstrated love.
Nana and Pastor Coty
Saturday Sunday School in the Summertime
During the summer period, the children's class usually meets outside, because the temperature gets really hot inside the buildings. To reduce the effects of the hot season, we did not just meet outside, but we also changed the kind of food that we use to feed the class. During this season, we make Ice Cold Juice for them along with bread, which they like so much. With the money we received from you the supporters at CHM, we were able to buy the bread, sugar and the ice. But as for the fruits, my wife Nana was able to get them right from our yard. We have Orange and Star Fruit growing in our yard. We were happy to make good ice cold juice for our kids, every Saturday.
Enjoying summertime
The School Lunch Program
The summer season is almost gone and we at CHM, are preparing to begin the School Lunch Program, for the fall term at the School of Cahess. The term begins September 9th, with 17 school days in the month of September. Enrollment has increased to 220 students, taught by 7 full time teachers.
A New Class
Pastor Coty has started a seventh grade class, which will meet in a small building which is near the church. There will be 8 students in this class. For the first year, this class will be taught by a group of 8 volunteer teachers who have teaching positions in other locations. This group of teachers will share the teaching responsibilities, and they will donate their time.
We will need to have some additional donors in order for us to completely fund the School Lunch Program.
IF YOU ARE SUPPORTING THIS PROGRAM, WE ARE NOT ASKING YOU FOR MORE SUPPORT.
This appeal is for new donors to help support the School Lunch Program.
Even though we are keeping the cost down to 50 cents per meal, the cost becomes very significant when there are 228 meals for 5 days each week for 4 weeks each month.
This turns out to be, four thousand, five hundred and sixty meals, each month.
At $0.50 per meal, this translates to $2280 each month.
As we look back in time, the Family and Friends of Coastal Haiti Mission have provided phenomenally for the children and teachers at the School of Cahess.
There were some months that Connie and I wondered if the children would have lunch at the end of the month. However, you came through, and lunch was served.
If we can find a few more donors who will help underwrite the School Lunch program, Connie and I will not have to agonize at the end of each month.
If you would like to help support the CHM School Lunch Program, please send your check in any amount to the address at the end of this newsletter OR you may use our PayPal service, also found at the end of this newsletter. Please mark your donation School Lunch Program.
Thank you for reading my plea, and may our Heavenly Father grant you many blessings, including great inner joy.
Ken Johansson, CHM Administrator
Traditional Health Treatment Services
Written by Pastor Coty Joseph
When I was a child, I often observed people seeking out this kind of treatment.
Whenever somebody got hurt, like from falling from a tree, or got hurt from playing soccer, or from riding a bicycle, or even being injured by an animal, they would need someone to treat them. Usually, they didn't go to see a doctor, because there were no medical persons in the village. But there were practitioners of a different kind in the village. The person in need of treatment would go to one of these practitioners, and that person would treat them by applying some hard touches to the needy person's body.
You may ask, what if that person had a broken arm? He would be treated by tying his arm to a piece of wood named, KOLE ZO, (bone connector in English).
Personally, I know many people who were treated by these local traditional
practitioners. Even now, we still have some of these practitioners in the village.
Most of these people are NOT Christians, so they would call up some voodoo *spirit, as they are applying their treatments Those that are Christians, would just do the hard touches and then look for the results. For the Christians, it is what you would call therapy in the scientific literature.
*Many Haitians believe in voodoo. It is not just a culture thing, but it is a belief in a god represented by different spirits. They believe these spirits can do many things such as healing a person of a sickness, making a person sick and even causing the death of a person. The voodoo practitioner performing the therapy, would call on voodoo spirits for guidance.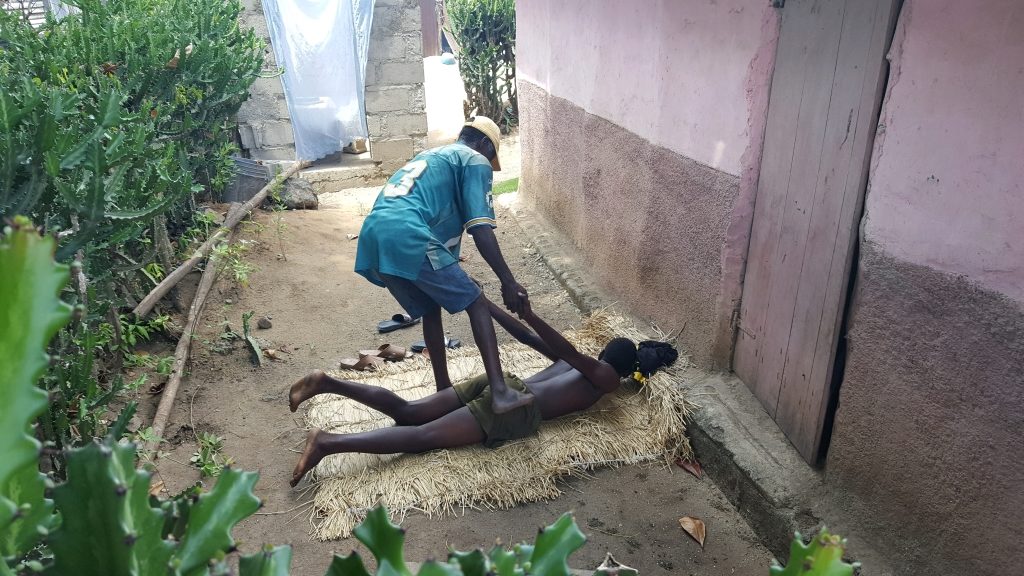 Physical Therapy Haitian Style
Food for the Needy Program
Pastor Coty Writes:
I want to introduce to you a member of the group of people getting help by this ministry. Her name is Elizabette Valmyr, also known as Zabo. She is a mentally challenged lady in our locality. In spite of her disability, she knows where to come for help when she is hungry. One thing that she does differently from the other
people in the program is, that she comes for food every time she gets hungry. The other people in the program, come for the food supplies once each week at the appointed time.
Zabo calls me, "My Son", when she comes for food. However, she calls me
"Pastor" when she sees me on the streets. But for my mother, who is responsible to separate and distribute the food for the program recipients, Zabo calls her DIRI, PWA , LWIL, which means Rice, Beans, Oil, that is 3 objects to name one person.
I just want to bring to the attention of all you supporters, that when you provide help, you help people whose need is very great, because they are not capable of helping themselves. You may not know of their existence, but your money does help them survive and our God knows, and is keeping account.
May God bless you all,
Pastor Coty Joseph
Zabo depends on the Food for the Needy Program.
Hebrews 13: 16 And don't forget to do good and to share with those in need.
These are the sacrifices that please God.
Thank you family and friends of Coastal Haiti Mission, for all that you do to
help the people in Cahess, Haiti. You are making a huge difference for these
people.
Please remember, that CHM must continue to send our monthly commitment of $600 to carry on the ongoing CHM ministry in Cahess.
If you desire to help, please send your tax deductable check to our address
and tell us how you want us to use your donation:
Coastal Haiti Mission
C/O Constance Goddard
3048 Spring Fancy Lane
Indian Trail, NC 28079
Or
For tax deductable "online donations", please use our PayPal service. Also
please designate how you want us to use your donation:
May the Lord our God, who knows your heart and sees your actions, grant
you great joy as you serve Him.
Connie, Esther, Pastor Coty, and Ken are very grateful for your sacrifice.
Ken Johansson CHM Newsletter Editor