Coastal Haiti Mission Newsletter
April 2019
Life in Rural Haiti
Pastor Coty Writes:
If you ask any Haitian living in Haiti, what is the staple Haitian food, the answer will be Rice and Beans. In any village in Haiti, including our village, Cahess, if you give someone some rice, he will be happy.
However, now the price of rice is so high, I am wondering if Rice and Beans will still be our preferred food.
Last month, I mentioned in my writing that the price of Rice was reduced some, after it had risen so high, because of the last country wide demonstration. Now however, the price of Rice is higher than ever.
I don't remember one time in history where food is so costly in Haiti.
In the big stores in cities like Cap-Haitian, a 55 lbs (25 kg) bag of rice is 19 to 20 dollars. By the time it gets transported to the village, it cost the village store 22 to 23 dollars. The cost is raised again when the rice is sold in small quantities to the people.
In a time where life is very difficult in Haiti, it is even more difficult in the villages like Cahess. This is because there are no gardens anywhere in Cahess, because there was no rain for a long time period. The gardens and the farm animals normally supplement the food supply in the villages.
The people in our food program, the kids in our school,and the families of the school children are very grateful, to CHM and to the CHM supporters, because without them, things would be much worse in our village.
I don't want to see people dying for not eating, but the way it looks now, that could happen, if it were not for those supporting our ministry in Cahess.
On behalf of the people in Cahess, I say thanks to you and ask you to please pray for Haiti, so God would do something for this nation.
Pastor Coty Joseph
Large open air store.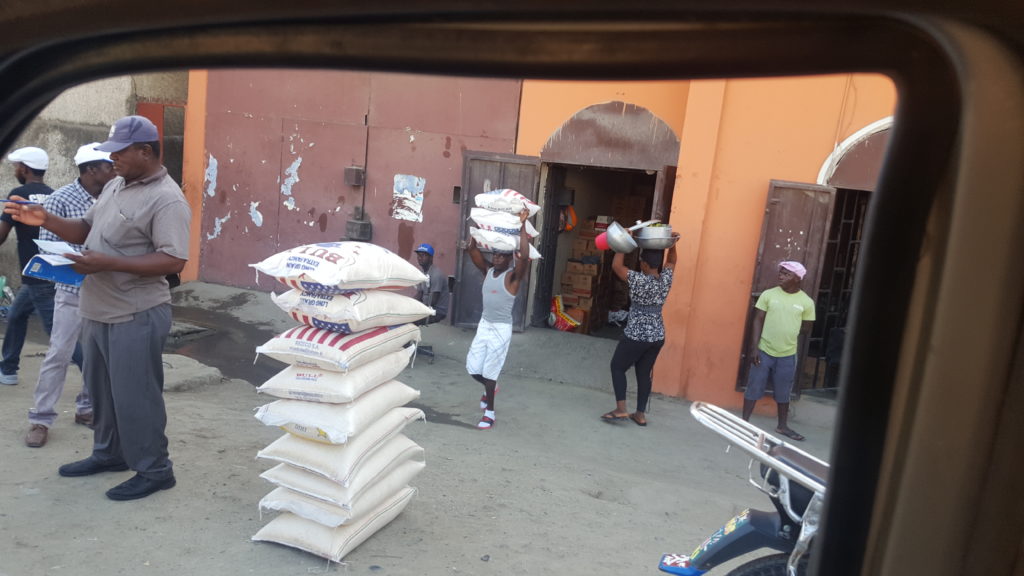 Purchases from a large store.
Rice sold in the village store at a higher unit price.
Saturday Sunday School
Pastor Coty Writes:
Hello everyone, we are committed to moving forward in the Saturday Sunday School. Our Saturday Sunday school is doing great. It was an idea from my wife Nana that became a reality. Some years ago as brother Ken Johansson, who is the administrator of CHM, visited Haiti, I introduced this program to him. Since then, we have received support each month, to provide every kid something to eat each Saturday. That keeps them coming because they know that they will get something to eat. Some of the children are growing up and don't want to miss the class on Saturday because they enjoy it so much.
This past Saturday as I visited the class, I was more than happy to see how our kids are learning and I realize that they can be and will be the ones to promote change in our village and in our country, if we teach them well. Some of them were acting as teachers and they did good. Those teaching, were in the class since the beginning, and now are able to teach others.
Pastor Coty Joseph
Student Leaders
Lessons and then treats
Food for the Needy Program
Pastor Coty Writes:
This is not a government program but a love program. No one is happier than these ladies. There is no way that these people would be able to buy food now because it is too expensive for them. But they are able to have it like other people because of the people who support CHM.
Walking away with joy after receiving food from the CHM Program: Food for the Needy
It is Mango Season
Pastor Coty Writes:
After the dry season comes the mango season. A time that everyone has been waiting for, especially this season, after the drought that we have been experiencing. . During this season, there are fewer hungry people, because many eat mangos all day long, even though it is not healthy, to eat only mangos. This is the case of many in our village, because it fills their stomachs. Not every one has a mango tree where they live, but in the village, people share mangos with those who live in the village.
One of the big benefits of the mango season is that it creates a business opportunity for people in the village. They fill big baskets with mangos, and then take them to sell in the nearby town.
Gathering and sorting mangoes to sell
Mangoes for sale at the side of the road
Water Purifier Program
Pastor Coty Writes:
The water purification system is solving the water borne disease problem. From the time that we have been using the water purification system, we do not see people sick from malaria or typhoid. We are very glad to have to have this system in our school and in some of the village homes. We are in the process of doing another water purifier distribution for another 50 families.
In our school in Cahess, our kids always used to suffer from stomach aches. We found out by experience that these stomach aches were mostly caused by drinking bad water or by not eating enough food. Both of these problems are solved now, because we have been having food everyday in school for several years now and the water purification system is cleaning up the water borne disease problem.
School children drinking purified water.
CHM now has 42 names of families who desire to have a water purifier in their home.
We need an additional $900 to complete the financing of the next distribution of 50 water purifiers. It takes $38 to purchase each water purifier complete with Aqua Tab chlorine tablets for a 6 month period. If you would like to provide one or more water purifiers, please send your check to the address at the end of this newsletter, or use our PayPal service also at the end of this newsletter. Please mark your contribution "Water Purifiers."
Getting Water to the Homes
Pastor Coty Writes:
Many of the homes in the Village of Cahess do not have an internal water supply. That means someone must go and get the water from a well. For some homes, the well can be a significant distance away from the home. In the homes, it is the girls who have the responsibility of bringing the water to the house. To bring the water home, the girls use a 5 gallon bucket. They fill it with water and carry it on their heads. Sometimes they use some cloth to cushion the weight on their heads. Other times they just use their hair as a cushion.
Hebrews 6 : 10
God is not unjust; he will not forget your work and the love you have shown him as you have helped his people and continue to help them.
Please remember, that CHM must continue to send our monthly commitment of $600 to carry on the ongoing CHM ministry in Cahess.
If you desire to help, please send your tax deductable check to our address and tell us how you want us to use your donation:
Coastal Haiti Mission
C/O Constance Goddard
3048 Spring Fancy Lane
Indian Trail, NC 28079
Or
For tax deductable "online donations", please use our PayPal service. Also please designate how you want us to use your donation:
May the Lord our God, who knows your heart and sees your actions, grant you great joy as you serve Him.
Connie, Esther, Pastor Coty, and Ken are very grateful for your sacrifice.
Ken Johansson CHM Newsletter Editor