Coastal Haiti Mission Newsletter
January 2019
Severe Drought in North Haiti
Pastor Coty writes: People in the village of Cahess are now facing a terrible moment in their story, because of the lack of rain.
We are praying for rain in Cahess. Please will you join us in prayer for this urgent need. It is hard to even remember the last time it rained in Cahess. We have to say that, life in these villages is really dependent on growing garden food, as well as by the raising of animals. Because there has been no rain, we are seeing some very frightening things. For example, the death of animals, because there is no grass to eat and also no water to drink.
Barren land and trees that will not flower.
No water in the Streams and Ravines. They are completely dry. The animals that roam freely, have no water to drink.
Because there are no grasses for the animals to eat, they now are reaching for the leaves on the trees. Where they can't reach the leaves, you have to cut some for them.
The Christmas/New Year Celebration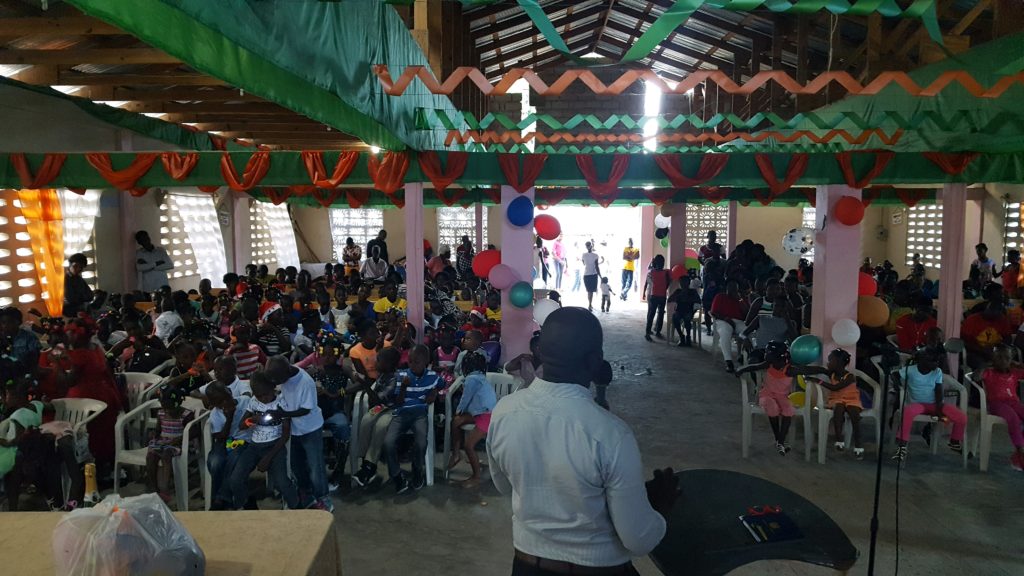 Pastor Coty writes:
This year we had more children and the number is growing every year. This celebration is for all the children that are involved in the school, and the Saturday Sunday School. It is also an outreach to other children in the village.

Each child received a special gift.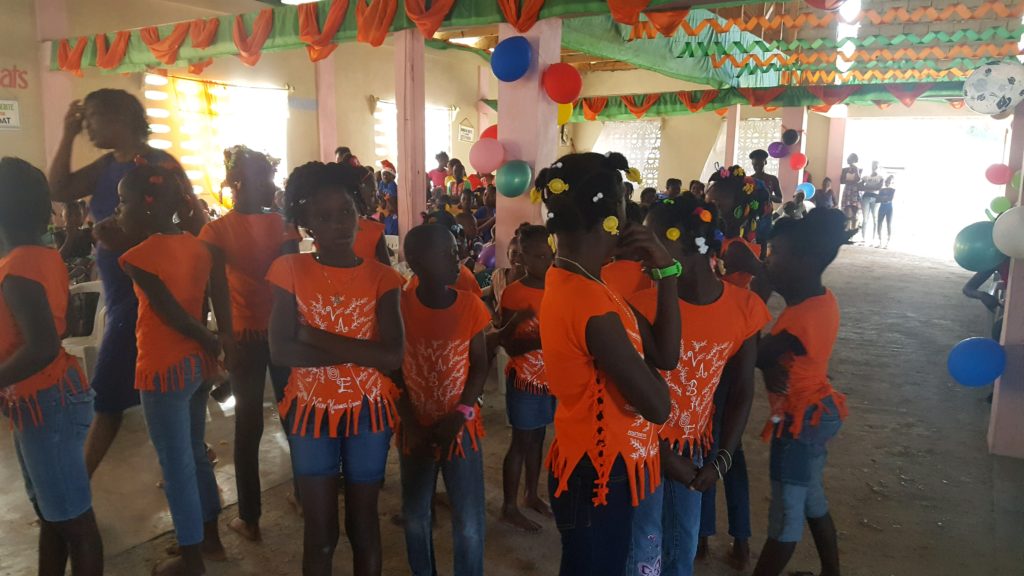 It was a nice moment together with the kids. We enjoyed it a lot.
All of this and more, was made possible because of the sacrificial support received from YOU, the Family and Friends of CHM You care about others so much, that you helped these children have a super great day to start the New Year off .
Thank you and God bless you all.
Pastor Coty.
School Lunch Program
Pastor Coty writes:
After the break for Christmas, school, along with the lunch program started again for our kids in Cahess. For the first week of school, we were the only school in session in the region.

Editors note: Even though we were able provide lunch for all of the 19 school days in the month of January, we were $500 short in covering the cost. We will need to make up this shortfall as we go forward in time. If you would like to help us with the School Lunch Program, please send your donation to the address at the end of this newsletter, and mark it "School Lunch Program".
Water Purifier Project
This water purification system is an answer to prayer. These systems are becoming an integral part of the households that have acquired a purifier. The family members are learning how to judiciously use the purified water. CHM Water Technician Jeff, continues to visit homes to teach how to get the maximum benefit from these purifiers. As the family members become adept in using the purified water, there is a corresponding improvement in their health.
We are very grateful to the CHM Family and Friends who have provided these purifiers. Most of the families who have a purifier, would not have been able to purchase one.
There are still families that are in need of a water purifier. Pastor Coty is gathering names of families who will be part of the next water purifier distribution.
CHM Water Technician Jeff, teaching families about efficient use of purified water and Water Borne Diseases.
Food for the Needy Program
This morning I stopped my busy schedule to contemplate what life must be like when there is no income to purchase food and there is no family to help in providing food. Hunger takes no holidays or time off. It is relentless. Just as the Sun rises each morning and sets each evening, the need for food follows a similar schedule. When food is plentiful, we generally don't dwell on where the next meal is coming from. There are people however, that must be concerned about their next meal. That is because they do not have the resources to provide the next meal. They may be sick or elderly. They may be alone and have no family. There may be too many people in the family for the amount of food that is available. These situations apply to many of the people in the CHM Food for the Needy Program. As I contemplate the abundance of food that is available to me, I feel privileged to regularly support the CHM, Food for the Needy Program.
We at CHM, are very grateful for you, who also provide food for the people in this program.
Ken Johansson, CHM Administrator
Patiently waiting for their turn.
Children and young people willing to carry the food.
These two grandmothers don't just want to send their helpers, because they want to be present to receive the food. So they bring their grandchildren with them.
Hebrews 6 : 10
God is not unjust; he will not forget your work and the love you have shown him as you have helped his people and continue to help them.
Please remember, that CHM must continue to send our monthly commitment of $600 to carry on the ongoing CHM ministry in Cahess.
If you desire to help, please send your tax deductable check to our address and tell us how you want us to use your donation:
Coastal Haiti Mission
C/O Constance Goddard
3048 Spring Fancy Lane
Indian Trail, NC 28079
Or
For tax deductable "online donations", please use our PayPal service. Also please designate how you want us to use your donation:
May the Lord our God, who knows your heart and sees your actions, grant you great joy as you serve Him.
Connie, Esther, Pastor Coty and Ken are very grateful for your sacrifice.
Ken Johansson CHM Newsletter Editor